Polish Festival in American Czestochowa:
Our Mobile Branch Serves Polonia in Other States
Our Credit Union, one of the main sponsors of the 43rd Polish-American Festival at American Czestochowa, wowed event visitors like never before. The cause of all the commotion was our mobile branch, where everyone interested could use our ATM, open an account or find out detailed information about our offer. Festival attendance was higher than ever before, as well, with over 30 thousand visitors mostly from outside the New York metro area.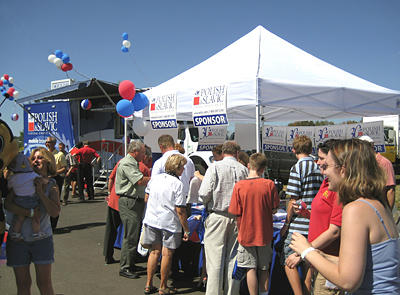 Visitors queueing up at our stand. Our mobile branch is visible in the background
Each year, the Festival is organized by the Pauline Fathers at Our Lady's Sanctuary in Doylestown, PA, known as American Czestochowa and often referred to as the spiritual capital of Polonia. Father Krzysztof Wieliczko, a longtime close partner of our Credit Union, took every effort to help us in our mission – i.e. to reach the maximum number of potential clients.
"I am glad that you are here," Father Wieliczko said. "Polonia needs your presence and your support. Your mission to help and serve rings very true with us, because the spiritual goal of this Sanctuary is to serve Polonia, particularly those who need it most. You are doing that in the material sense and, judging by the throngs of people in front of your stand, the Polonia certainly appreciates that." During the Festival, Father Wieliczko personally consecrated our mobile branch.
The Polish-American Festival in Doylestown is the largest such event on the East Coast. This year, the Festival lasted five days over two consecutive weekends: August 30 through September 1 and September 6-7. Our Credit Union was represented by a large number of employees. Approximately 500 people used out ATMs, we have received several loan applications and opened new accounts. Credit Union representatives have distributed a large amount of promotional and informational materials.
More information on the Sanctuary and the annual festivals can be found at www.czestochowausa.com.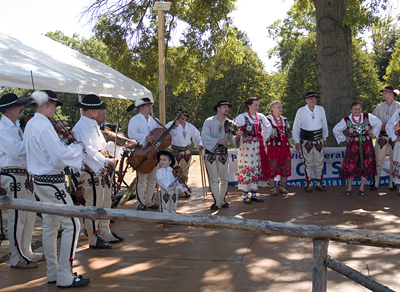 Folk dance ensemble at the Festival with our Credit Union's sponsorship banner in the backdrop

Go to main navigation