How to Compete Against Banks? How to Attract Young Generation of Polonia?

Students Showcase Their Ideas for
Polish & Slavic Federal Credit Union
Five $500 Awards for Best Marketing Essays.

New York, August 11, 2008 – Last week, Polish-American students received certificates and monetary awards for the best marketing essays at the Polish & Slavic Federal Credit Union headquarters located at McGuinness Blvd. in Greenpoint. Their essays constituted a part of this year's scholarship program, through which our Credit Union provided financial assistance to 256 students.
"Does PSFCU Fulfill It's Mission to Be More Than a Bank to Its Members? Suggest How Our Credit Union Should Compete against Banks Attempting to Gain Polish Clients" – the subject was tackled by as many as 35 students who presented in their essays the young generation's point of view on this specific problem and suggested a number of interesting solutions.

Although the essay could have been written in either Polish or English, a vast majority of them were prepared in English. PSFCU Marketing Department awarded five of them, authored by Radosław Janowski, Jakub Paluch, Olivia Perkowski, Katarzyna Pieklo i Michał Poplawski. Each of the winners received $500 and a commemorative certificate.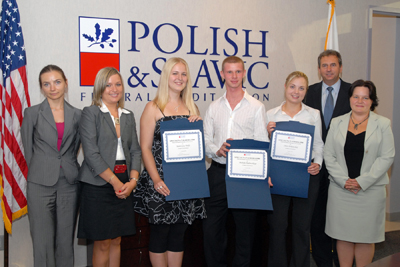 The winners (in the middle): Katarzyna Piekło, Michał Popławski, Olivia Perkowski; from the left: marketing representatives: Ewelina Tarnowka and Ewa Kotulska; from the right (next to the winners): VP of Marketing Marian Ponanta and COO Agnieszka Poślednik

During the meeting, winners had a chance to present their ideas to the Marketing Department and to the gathered media, and subsequent discussion turned into a debate on the relations between generations of Polonia, and the role educated young people will play in the future of our ethnic group.

Among the presented ideas aimed at ensuring future success of our Credit Union in the competitive market prevailed those geared towards the young generation, such as student loans, training sessions explaining complex financial transactions and tax issues, as well as promotion of online banking. Other suggestions included expanding the ATM network in cooperation with other financial institutions and annual raffle providing the members an opportunity to win valuable prizes.

"Numerous people, predominantly of the older generation, are not skilled computer users. I know it from my own experience, because it took my parents a few hours to learn how to check email. Now, they are constantly online and they are very excited about the Internet," joked Katarzyna Pieklo. "The truth is that many members are not aware of how much can be done using the online banking: opening accounts, applying for loans, paying bills, checking balances. Physical distance is not an obstacle anymore. You can do your banking 24/7," she added.

Awarded students emphasized the necessity of Credit Union's cooperation with Polish businesses as well as the creation of a promotional program which would acknowledge Members serving as our "ambassadors," recommending our products and services to friends and relatives. Students also suggested a few slogans and catch phrases, which were scrupulously written down by marketing representatives. Some notable examples are "Bank with us, show Polish class" (Polish version: "Bankuj z nami Polakami") or "Just like a family, we will always be there for you."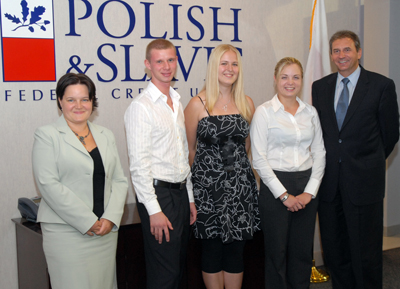 From the left: COO Agnieszka Poślednik, Michał Popławski, Katarzyna Piekło, Olivia Perkowski i VP of Marketing Marian Ponanta
"We want to know how we are perceived by the younger generation. Their opinions are always sincere, objective and constructive," said Marian Ponanta, VP Marketing.
"Many of their ideas are used while planning future marketing strategies".

All students agreed that our Credit Union does a lot for the Polish community as a whole, including organizations, schools and churches, and in particular for the young people. Michal Poplawski praised the warm, homelike atmosphere in the Credit Union's branches but suggested expanding marketing efforts beyond the Polish media, because young Poles who were born or raised in America hardly ever read Polish newspapers.

Students, some of whom once belonged to scouting organizations and attended Polish schools, pointed out the difficulties they have meeting other Polish people at their colleges and stressed the strong assimilation of the academic environment, in which Polish presence is only accented by the Polish Students Organization.
"English, naturally, became my first language because my father is Polish, my mother is Ukrainian, and I am constantly among English speaking people," confessed Olivia Perkowski, who actually spoke Polish very well. "My father always insisted on my speaking Polish", added Olivia.
All award recipients declared that they would look for stronger ties with Polonia: either through family and friends or probably by enrolling in Polish organizations though, admittedly, such organizations are not doing much to approach the young generation and do not have much to offer for them.

"You can always count on our Credit Union," declared Agnieszka Poslednik, Chief Operating Officer, who headed the PSFCU delegation. "We will continue our partnership with the Polish Students Organization and we will support the efforts of young Poles to find Polish connections in their schools. We will do everything so the young generation can stay with us. Young generation is our future."

Go to main navigation