Health Is Priceless at PSFCU
Over 100 members gathered at the PSFCU headquarters at 100 McGuinness Blvd. on Saturday, July 19th, to take advantage of free medical screenings. It has been five years since the inception of the program organized by Our Union in cooperation with the Bellevue Hospital. Ten clinicians and specialists from the hospital, assisted by residents from the New York University Hospital, performed basic blood pressure, sugar and cholesterol level screenings. For this purpose, our Credit Union provided its facilities and assigned funds for interpreters and the preparation of Polish language printed materials.
After a quick blood analysis, our members had an opportunity to obtain practical medical advice on diet, circulatory disorders and how to effectively combat the smoking habit.

The idea behind free medical screening is to provide basic medical care to those lacking health insurance. "It is always a pleasure to work with PSFCU. We are pleased to see that PSFCU cares so much about its Members", -said Chris Cho, who helped organize the screenings on behalf of the Bellevue Hospital. "Everything is so well organized, and we are truly glad that we can help those, who can not afford going to a doctor".
Aside from basic checkups, women over 40 had a chance to make appointments for free mammograms.
Cigarette smokers had an opportunity to talk about quitting their habit, which remains a serious problem within the Polish community, particularly among those who have arrived from Poland recently. Those of our Members who decided to drop this habit were offered free anti-nicotine patches.
Members lacking health insurance talked to Healthfirst Insurance representative, who offered medical coverage even to those rejected by other insurance companies.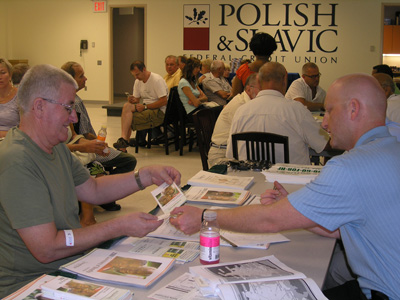 Insurance representative talking about benefits of having an insurance plan
As in previous years, the fast growing list of applicants proved that Our Union initiative continues to be extremely popular among PSFCU members. "It was my husband's idea to come here. He learned about the free screenings from the newspaper." –said Ms. Cecylia Miezio. "I support this initiative, and I am pleasantly surprised with the organization of the event. Everything went very fast and smoothly. I am very happy to be a member of a Credit Union as opposed to bank. It shows that PSFCU cares about us. Bravo!" Ms. Miezio added.
The screenings began shortly after 10 am and lasted until sfter 3 pm; over 100 PSFCU members were screened during this time.
When asked after the event, Members admitted that if it wasn't for the PSFCU initiative, they wouldn't have been able to see a doctor in the nearest future. "These screenings encourage us to check our health", said Dorota Mroz, who learned about the tests from her friend. "A visit to a doctor can be quite challenging, so I was vary glad to find out that I could do my check up at such a convenient time, location, and most of all, with no costs".

Many people have been taken advantage of our 'health' several times since its beginning. Those, who came for the first time, definitely want to come back and encourage their friends and family to do the same.

Go to main navigation