Our Credit Union invests in education of our youth. Scholarships 2008
As in previous years, PSFCU scholarships were divided into two categories: for high-school seniors beginning their college studies this fall and for college students. The scholarship program for high-school graduates was organized under the auspices of NYSCUL – New York State Credit Union League, while scholarships for college students are awarded as part of PSFCU's own, autonomous program.
PSFCU scholarships were handed out during two ceremonies. 112 high-school students received their scholarships on May 8 at the Princess Manor, located at Nassau Avenue in Greenpoint. 97 recipients received scholarships in the amount of $500, 15 others received $1750 each and four other persons received additional NYSCUL scholarships.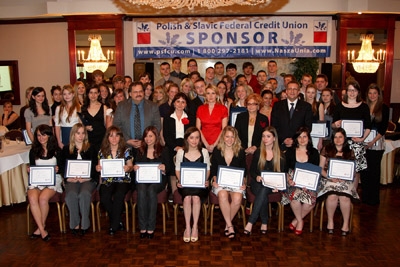 High-school seniors with PSFCU representatives
A month later, on June 18, 2008, another ceremony was held for 144 persons at the Polonaise Terrace in Greenpoint. The winners received 10 scholarships in the amount of $5,000, 16 scholarships of $2,000 and the remaining winners received $1,000 each. Scholarship applications were reviewed by an independent Scholarship Committee consisting of 12 people, including several college professors. The Committee was chaired by Dr. Katarzyna Kowalska.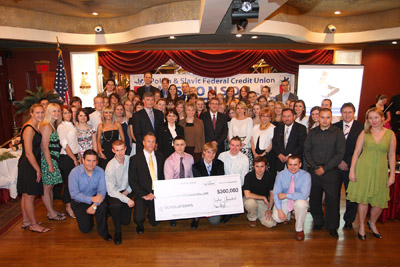 Students with PSFCU representatives
A total of 256 young people received financial help from PSFCU this year under the scholarship program, which is already 7 years old. Thus far, our Credit Union has assigned over $1.3 million for the support of ambitious and bright young people. No other US credit union can boast such a valuable program.
We can be additionally proud of the fact that numerous recipients of our scholarships study at the best, most prestigious universities – winners include students of Harvard University, Columbia University, Yale or NYU.
Scholarship applicants were assessed on the basis of their grades, engagement in the Polish community, written essays and teacher references. We also took into consideration the financial needs of each applicant. All persons applying for PSFCU scholarships must be members and primary account holders at our Credit Union.

Go to main navigation