PSFCU ROLLS OUT BANKING ON THE GO!
Nation's Largest Ethnic Credit Union "Revs Up" Mobile Banking Initiative: "Credit Union On Wheels" Enables PSFCU to Carry the Credit Union Difference to New Neighborhoods
Faced with a growing membership that has increasingly spread itself geographically, the Polish & Slavic Federal Credit Union will now "take to the road" to service its members by introducing a state-of-the-art mobile banking unit that will be deployed year-round to Polish-American communities.
The mobile unit is a forty-foot truck outfitted with an ATM, a member service area, and two teller windows. The mobile branch will offer state-of-the-art banking services, including processing deposits, withdrawals, loan applications and credit-card applications.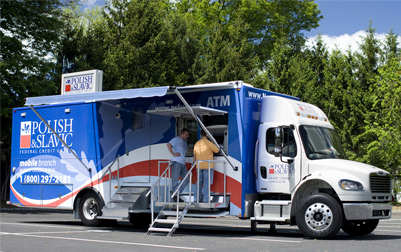 PSFCU mobile branch
Among its many stops throughout the year, the unit will make extended appearances at numerous ethnic Polish parades and events, regional festivals, and other high-profile gatherings within the tri-state area. The mobile unit will also be placed outside existing branches that are currently undergoing renovations or expansions in order to alleviate any disruptions to members.
Furthermore, the credit union intends to utilize the mobile branch to test the waters in markets and neighborhoods far from its Brooklyn roots.
"Technology, and information technology in particular, has been our tool of choice to help our credit union grow. Just a few years ago it would have been impossible to process transactions in real time; now, thanks to the wireless connectivity, our mobile branch has full functionality you would expect from a traditional branch." said Bogdan Chmielewski, CEO of the PSFCU. "This is also a unique and modern way to introduce the credit union difference to potential new members, while at the same time servicing so many of our dispersed membership in those areas."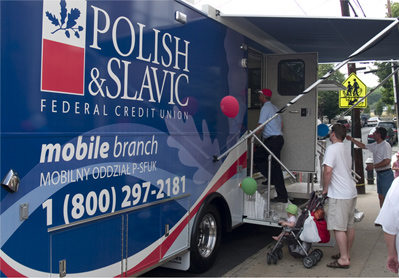 PSFCU members use the mobile branch
The mobile unit made its debut this past weekend in Maspeth, Queens, at a Polish heritage festival. It was an immediate hit. "It is quite a feeling... driving a credit union," joked the vehicle's driver, Bogdan Milewski. "The cops and onlookers give us a 'thumbs up' whenever I drive by. If I ever get a traffic ticket, the payment can be processed right on the spot!"
Credit Union officials also indicated that the mobile branch will be used as a vital command center as part of its Disaster Recovery plan. The branch features a wireless computer system that helps ensure that the ongoing operations of the $1.2 billion financial institution proceed without disruption.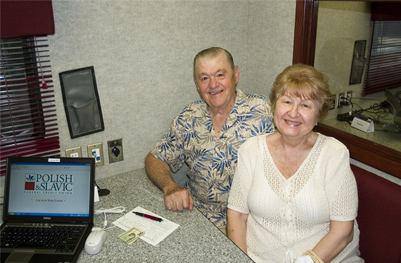 Mr. and Mrs. Kloszewski open an account at the mobile branch
The eye-catching interior of the mobile unit features vibrant colors and designs that bear little resemblance to a traditional bank. A palette of blue, red, white and silver work together to create an exciting look to the walls and layout of this innovative branch.
The PSFCU's mobile branch is expected to be used at a number of locations this summer, including: Maspeth, NY; Trenton, NJ; and Doylestown, Pennsylvania. It will certainly make quite a statement during the hugely popular Pulaski Day Parade that travels up Manhattan's Fifth Avenue in October. Overall, the vehicle is expected to travel 50,000 miles annually.

Go to main navigation