(rear, from left): Rev. F. Marciniak, T. Bortnik, A. Bak, Rev. E. Szpiech; (directly behind the ribbon): W. Mleczko, M. Wierzbowska,
M. Wadolowska, B. Chmielewski, E. Baumgartner, K. Myssura,
K. Sawczuk, F. Calandriello and P. Gentile
PSFCU EXPANDS OPERATIONS
WITH FIRST OF THREE NEW BRANCH OPENINGS THIS YEAR
Nation's Largest Ethnic Credit Union Opens New Branch In Garfield, NJ;
Also Announces Plans To Introduce A Mobile Branch And An E-Branch

While many financial institutions are feeling the sting of increasingly troubling economic times, the Polish & Slavic Federal Credit Union is showing no signs of slowing down, as it recently christened a new branch in Garfield, New Jersey, the first of three new locations it plans on opening in 2008.
The new branch marks the fifth New Jersey location for the PSFCU, and its 11th overall throughout the tri-state region. Located at 75 River Drive in downtown Garfield, the 5,000-square-foot office features six teller stations, a business services department, a conference room, a lunch room, and spacious MSR work areas. The eight employees of the branch are supervised by Ms. Agnieszka Bak, the branch manager.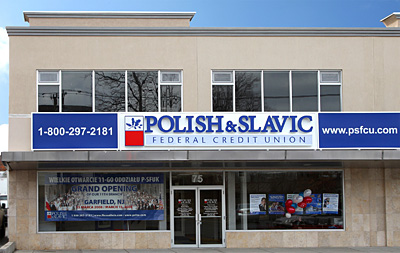 The new branch in Garfield.

At the recent Garfield grand opening, the PSFCU announced that it would be opening new branches in Maspeth (Queens) this summer, and in Trenton, NJ, by the end of the year. PSFCU will also debut its "e-branch" in late April and a mobile branch a month later. Over the credit union's first 30 years, it opened a total of 10 branches; by the end of this year, it will have increased its operations by 30%.

Mr. Bogdan Chmielewski, CEO of the PSFCU, cut the symbolic ribbon, assisted by the members of the Board of Directors; Garfield Mayor Frank Calandriello; and Paul Gentile, CEO of the New Jersey Credit Union League.

"This is just the beginning of what promises to be a truly eventful year for our credit union," said Mr. Chmielewski. "Whereas others are trying to overcome foreclosure troubles and other financial woes, we are determined to expand. We're excited about our growth potential and we bet on a pro-active approach to expanding our footprint. PSFCU's committed to meeting the needs and wants of our loyal membership, and we want to be where they are, provided there is a good prospect of financial success."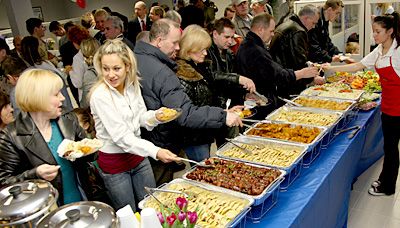 Refreshments are served at the branch
"We welcome the Polish & Slavic Credit Union," said Mr. Calandriello, the Garfield mayor. "In the history of this town there was a lot of sweat and a lot of backbone from the Polish and Slavic community that helped make Garfield the great city that it is. I wish this credit union much success."
Past history has shown that businesses flourish once a PSFCU branch is opened nearby, and the presence of the Credit Union is sure to benefit the many small Polish-American businesses in the area.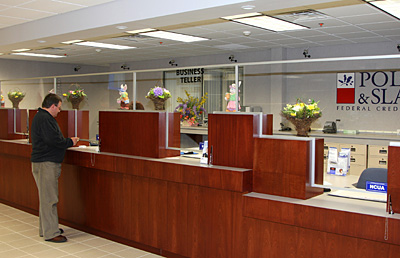 Our new Garfield branch now serves the Credit Union Members
"Credit unions play a very important role in the economy today. They are not here to make a lot of money in terms of charging high fees; they are here to serve the members. So it's really a privilege to see this credit union grow," commented Mr. Gentile. "In my role, I travel extensively, and I can tell you that this is one of the most sophisticated, modern credit unions that you'll see in the country."

"This new branch is a testament to the success of all of PSFCU employees and volunteers, not to mention the PSFCU's smart business practices over the years," stated Ms. Elzbieta Baumgartner, a member of the PSFCU Board of Directors. "I am fortunate to say that we have succeeded in avoiding many of the pitfalls of other financial institutions. This is a good sign for the future of this credit union."



Go to main navigation