Business 4 You
or How to Open and Manage a Business in the US
The Business 4 You meeting was held on Saturday, February 2, 2008 at the Consulate General of the Republic of Poland in New York. The meeting was divided into sessions on the methods of opening and managing a business in the US. The gathered audience, majority of the business owners, had an opportunity to share their own professional experience and obtain free legal and accounting advice. Everyone present also had a chance to learn about the business services offered by PSFCU.

Our Credit Union was represented by representatives of the Member Business Servces, Ms. Małgorzata Jacheć and Mr. Krzysztof Lubas. Mr. Lubas held an interesting presentation about our Credit Union's business offer. The presentation met with a lot of interest, which was evident from the number of questions asked from the audience. After the presentation, members of the audience had an opportunity to talk with our representatives in person and obtain exhausting answers to their questions on PSFCU's business offer.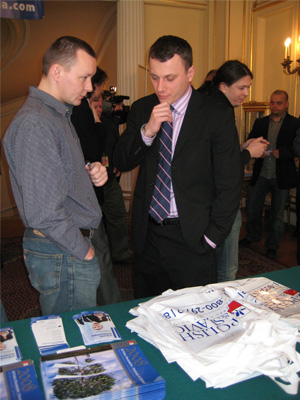 Our Credit Union's representative talks to one of the meeting attendees
Each person attending the meeting received a PSFCU gift bag with promotional premiums and informational material. The Business 4 You meeting enjoyed a great success. It was attended by 125 people and its organizers have already pledged to continue such meetings in the future.
Go to main navigation