PSFCU AWARDS WINNERS OF THE BEST MARKETING ESSAY COMPETITION
An award ceremony for the best marketing essays, submitted as part of our Credit Union's scholarship program competition, was held on Thursday, November 15, at the PSFCU headquarters located at 100 McGuinness Blvd, in Greenpoint. Young Credit Union members were awarded six equal PSFCU gift cards in the amount of $500 each, accompanied by commemorative certificates.
The marketing essays dealt with the topic "If PSFCU Hired You As a Consultant, What Strategy Would You Suggest To Attract Young Polish-Americans and to Encourage Them to Remain With Us?" Over 50 essays were received overall. 16 finalists were selected, of which 6 best received awards. Award winners included Anna Niemczyc-Antkowak, Żaneta Dziedzic, Justyna Niezgoda, Antonina Olechowska, Małgorzata Sękowska and Tomasz Gaweł.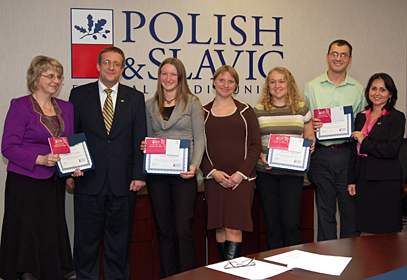 Competition winners with PSFCU representatives
The award ceremony took the form of a discussion panel, during which award recipients summarized their essays describing various ideas related predominantly to modern technologies, e.g. methods of developing online financial services. The discussion, chaired by Marian Ponanta, PSFCU's Vice President of Marketing, was held in a friendly atmosphere. Winners listened with interest to questions asked by PSFCU Directors: Secretary of the Board of Directors, Ms. Małgorzata Wądołowska, Director Marzena Wierzbowska and CEO, Bogdan Chmielewski. The meeting was also attended by journalists – representatives of 5 Polish newspapers.
Mr. Bogdan Chmielewski, PSFCU Chief Executive Officer summed up the event: "We are glad that young Polish-Americans eagerly took part in this project and proved that it's worthwhile to motivate them to think creatively and share their ideas with the entire Polish community. Congratulations to the winners!"
Go to main navigation