POLISH & SLAVIC FEDERAL CREDIT UNION ENCOURAGES YOUNG MEMBERS TO REACH
FOR AN IVY LEAGUE EDUCATION

Sponsors Second Annual "Polish Day" At Columbia While Emphasizing the "Credit Union Difference"

NEW YORK (October 22, 2007) – Committed to making an impact on
its younger and future members, the Polish & Slavic Federal Credit Union continues to push young Polish-Americans to not only strive for a college education, but to set their sights on attaining an Ivy League degree.

In May, the country's largest ethnic credit union repeated its last year donation of $100,000 to Columbia University toward the endowment
of the Chair of Polish Studies at the prestigious New York school, becoming the project's largest donor. And early last week, the PSFCU helped organize the second annual "Polish Day" at Columbia, where young students were provided an invaluable tutorial on how best to apply
to the school and other Ivy League colleges.

"We feel we must do more than just encouraging our members and their children to simply get a college education. Our message is not just 'aim high,' but 'aim for the highest,'" said Ms. Malgorzata Wadolowski and Ms. Bozena Kajewska-Pielarz, Members of the Board of Directors of PSFCU, who attended the event. "Having young Polish-Americans reach for an Ivy League education can help them fulfill their utmost potential – and that's great for them, great for us and great for the entire community."

Columbia University's Director of the East Central European Center and the driving force behind the effort to establish the Polish Chair, Professor John Micgiel, co-hosted approximately 60 Polish-American high-school students during the PSFCU's "Polish Day." The three-hour-long event was held at Columbia's International Affairs Building at 420 West
118th Street.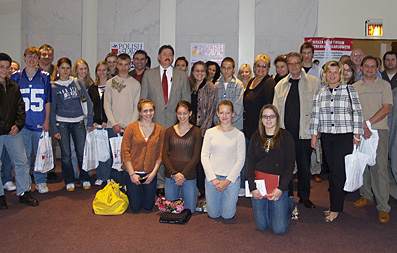 Participants of Polish Day at Columbia (prof. Micgiel in the middle wearing red tie)

The main organizers of the event were PSFCU's long-time partners –
the Polish Student Club at Barnard College/Columbia University and the Polish Student Organization in New York, which presented a program
that helped introduce the school to the students and offer insights into
the application process.

A representative from the Polish Student Organization, Ms. Katarzyna Kowalska, gave an informative lecture on the best strategies for applying to top-level colleges throughout the United States.

"Some may question why we devote so much time, money and energy
to encouraging higher education, especially concerning Ivy League schools, but we realized long ago that our children need to have their dreams nurtured, and if we are going to be an integral part of our community, we have to push our members and neighbors to reach for the highest rung," said Ms. Agnieszka Poslednik, the credit union's COO, who was on hand during the event to encourage those youngsters who were not credit union members to join its ranks. "Our education commitment doesn't stop with scholarships, though we've given away $1 million over the past 5 years. This is just one of the ways in which we want to emphasize the 'credit union difference."



Go to main navigation