"THE SPIRIT OF COMPASSION,
HERBERT HOOVER IN POLAND"
EXHIBITION ON DISPLAY AT OUR CREDIT UNION
Throughout October, visitors can view "The Spirit of Compassion, Herbert Hoover in Poland" photography exhibit at the PSFCU branch located at 100 McGuinness Blvd. in Greenpoint. The exhibition commemorates the huge effort on the part of Herbert Hoover in the restoration of an independent Polish state.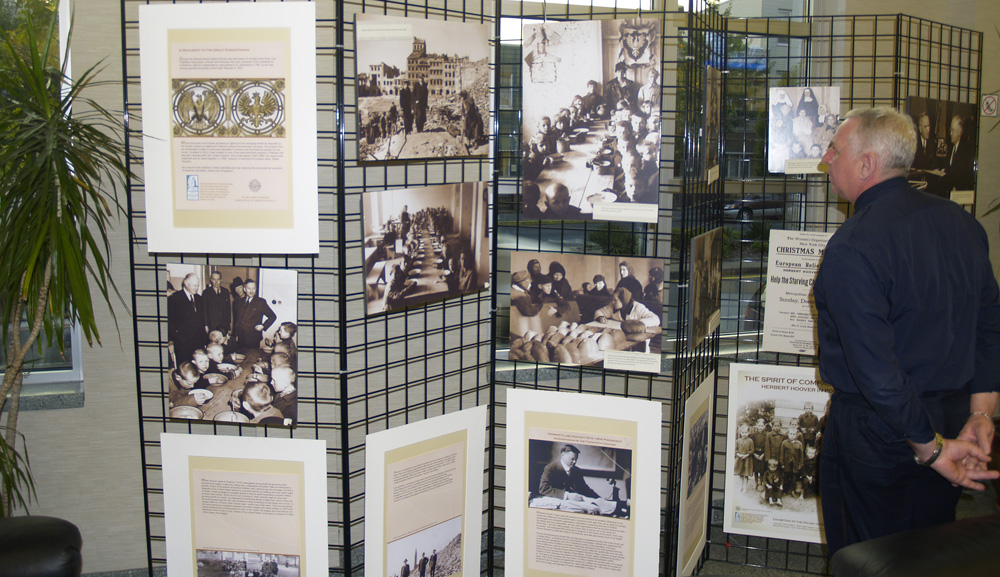 The Hoover exhibit on display at 100 McGuinness Blvd.
Herbert Hover was immensely popular in pre-war Poland but after 1945, the memory of his achievements for the country began to fade. He was born in a family of poor village blacksmith and was orphaned when his parents died because of poverty. From his early years, Hoover was forced to work hard to support himself and later sympathized with all those in need of assistance, particularly orphans and people suffering from hunger.
Hoover was a strong proponent of the idea of world peace and was involved in the organization of humanitarian aid to people ravaged by war. He drew the attention of the US Administration to the Polish issues, particularly our country's independence and access to the sea. He played a key role in organizing shipments of basic articles, addressing them to "Poland" – even though the country did not yet exist on the map of the Old Continent at that time.
After World War II, Hoover spoke with concern about the future of Poland: "There will come a time, when the ignoble and unnatural communist domination falls. The spirit of freedom is still alive in Poland and its freedom will be reborn. Faith and hope never die in free nations."
We cordially invite you to view this interesting exhibition.
Go to main navigation