PSFCU BOARD OF DIRECTORS FULFILLS
ITS ELECTION PROMISE:
Periodic Meeting of Our Credit Union Representatives with Our Members
A periodic meeting of the Board of Directors with our Credit Union Members was held on Friday, September 28, 2007 at 6:00 PM at the Polish & Slavic Federal Credit Union headquarters located at 100 McGuinness Blvd. "In organizing this event, we are fulfilling the promise made at the Annual Meeting that Credit Union Directors would meet with the members more often than just once during the annual elections; we would also hold working meetings during which members would have an opportunity to present their opinions and find out about current goings on at our Credit Union" – said Krzysztof Matyszczyk, Chairman of the Board. – "Our Credit Union needs such constructive dialog."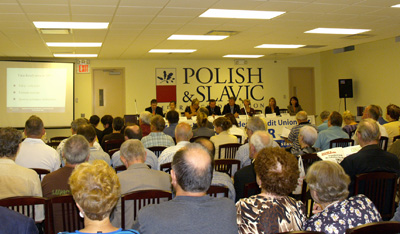 Meeting with the Board of Directors
The meeting started with a touching ceremony during which special diplomas and gifts, including a wonderful album of Polish paintings from the collections of Polish-American art collectors, were presented to the longest standing PSFCU members. Everyone in attendance also received a special report entitled "What's New at Our Credit Union – News and Achievements 2007" showcasing a compilation of articles about PSFCU published in Polish and trade press. Among those honored was Mr. Władysław Frączek, holder of passbook number 2,
who took the floor on several occasions during the meeting.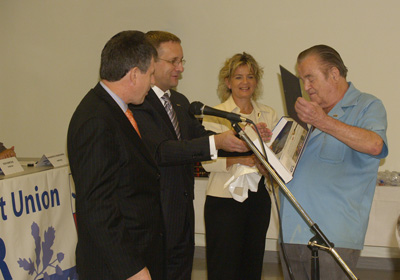 Mr. Władysław Frączek receives a gift from our Credit Union
During one of major meeting points, answers were provided to questions posed at the May annual election meeting. The answers were presented by Mr. Krzysztof Matyszczyk based on information provided by the Credit Union Management. The main part of the meeting featured a discussion of the current PSFCU operations. Everyone in the audience had an opportunity to ask questions or to comment on issues important to them without any time limitation.
Mr. Krzysztof Matyszczyk, Chairman of the Board of Directors, and Mr. Bogdan Chmielewski, Chief Executive Officer, answered the questions and summed up the past year in the Credit Union. "I am happy that our plans for further development, particularly the construction of a new branch in Maspeth, attract so much interest." – said Mr. Chmielewski. –
"I am convinced that residents of that area will be very happy with our efforts."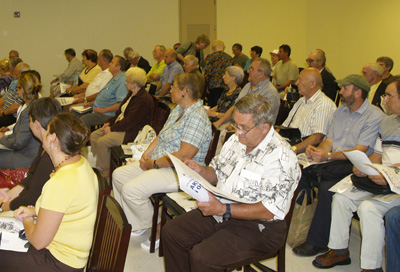 Credit Union members at the periodic meeting
A nice accent was provided by the organizations working for the Polish-American community, whose representatives thanked PSFCU for its donations. Every speaker stressed the importance of even the smallest amount of money donated by our Credit Union to the Polish schools and churches, choirs, sports organizations and dance schools. Mention was also made of the donation to the Columbia University where a Chair of Polish Studies is to be established with the help of our Credit Union. Although the audience was not unanimous in this matter, prevailing opinion held that the Polish community should take every effort to raise its prestige by investing in education.
At the end of the meeting, the Board of Directors stressed the importance of holding similar sessions in the future and stated that such periodic meetings would be organized much more often. Everyone agreed with the opinion that more efficient and frequent communications between the Credit Union and its members will help us serve the Polonia even better.
Go to main navigation