Monica Aksamit named PSFCU Rising Star
Olympic bronze-medalist fencer Monica Aksamit was named the 2016 "PSFCU Rising Star" by the Polish & Slavic Federal Credit Union this past week for her exceptional achievement at the recent Summer Olympic Games in Rio. The 26-year-old Matawan, NJ native was awarded $5,000 by PSFCU, the Brooklyn-based credit union that is the largest ethnic credit union in the country.
Ms. Aksamit, a PSFCU member for the past 18 years, received her prize earlier this week during the "Rising Star" awards ceremony held at the PSFCU branch in Linden, NJ. The "Rising Star" program was set up to award scholarships and funds to young members of the credit union for their extraordinary achievements on the national or international level.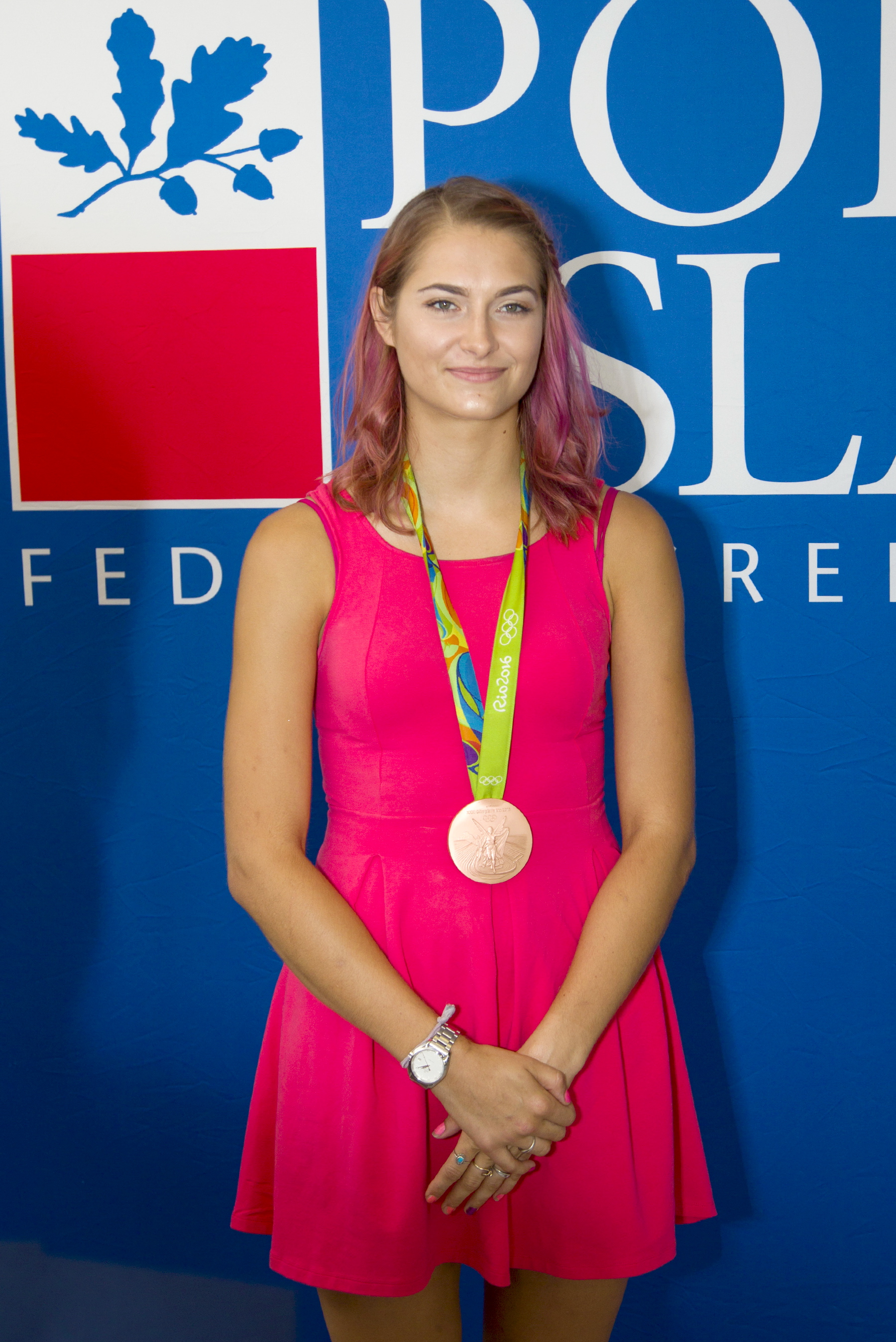 At the Rio Olympics, Ms. Aksamit took home a bronze medal in the Women's Saber Team Event. "I'm so grateful for this award. This money will help me prepare for the Olympic Games in Tokyo," said Ms. Aksamit. "You could say that I started to train for fencing because of the credit union. My mother worked at the PSFCU, and Mr. Janusz Mlynek, my first coach, was a customer here. They talked about fencing and that's how it all started."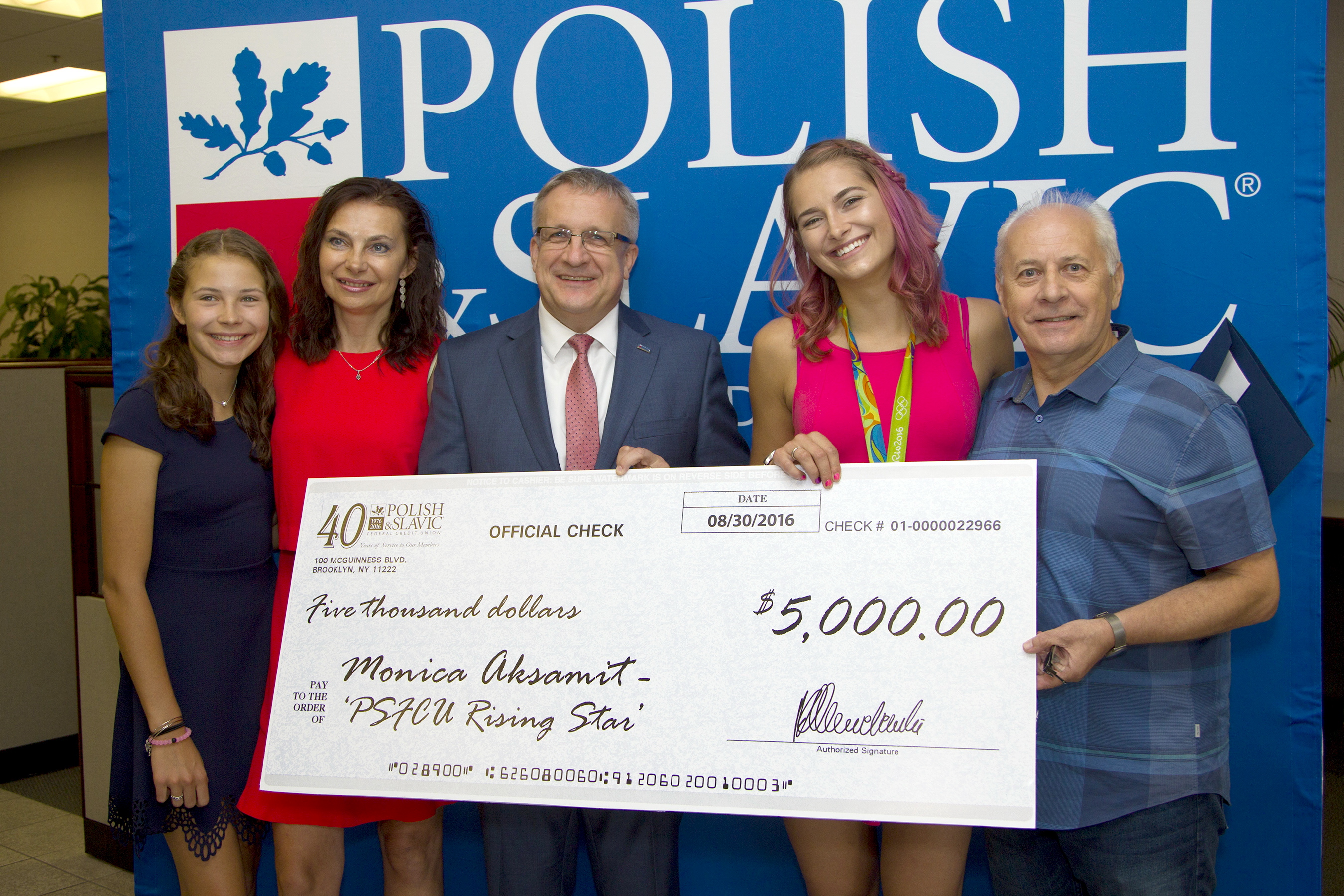 From left: sister Olivia, mother Marzena, PSFCU CEO/President Bogdan Chmielewski, Monica Aksamit and Janusz Mlynek, Monica's first coach
The celebrated fencer started her PSFCU membership with a minor's account that her mother had set up for her when she was 8 years old. Today, she is a full-fledged member of the credit union. PSFCU is a long-time supporter of the Polish-American Fencing School, where Ms. Aksamit began training at age nine under the tutelage of Janusz Mlynek, who also trained Ms. Aksamit's fellow bronze-medal-winning teammate Dagmara Wozniak.
In handing the $5,000 check to this year's "Rising Star" recipient, PSFCU Chief Executive Officer Bogdan Chmielewski said, "The entire Polish-American community is proud of all our achievements. We are thrilled at your fencing in Rio and we hope for continued success at the next Olympics in Tokyo." Upon receiving the award, Ms. Aksamit expressed her gratitude and offered up her immediate plans: "A short vacation and it's back to training. I hope there will be more medals at the Olympic Games in Tokyo". In attendance at the ceremony were Monica's mother Marzena, her younger sister Olivia (also a fencer in the foil event), and Mr. Mlynek.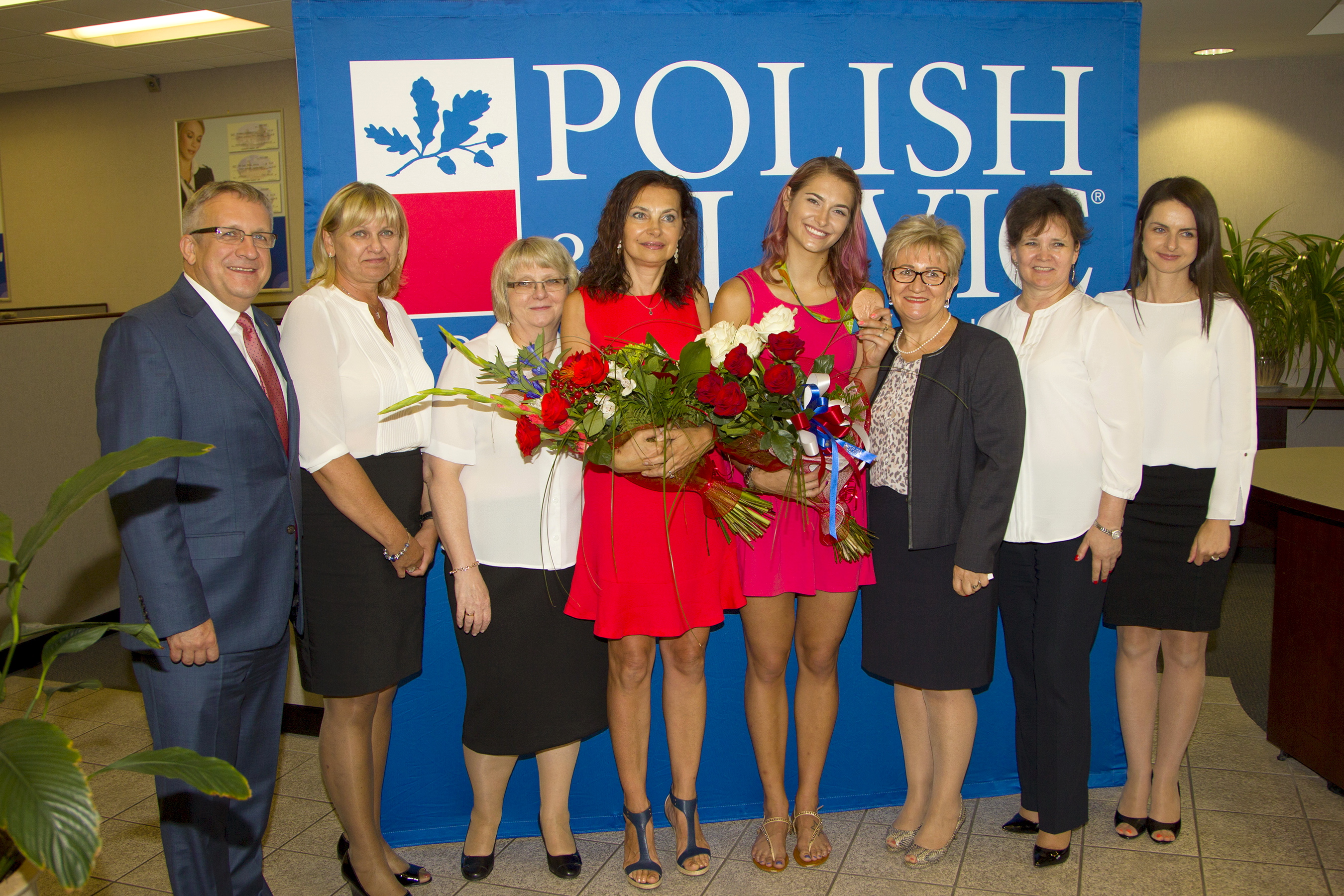 Monica Aksamit with PSFCU Branch Linden employees and PSFCU CEO/President Bogdan Chmielewski

Ms. Aksamit is the second winner of the "PSFCU Rising Star" award. The $5,000 annual award was established in 2014 as a part of PSFCU Scholarship Program and is given to young members of the credit union based on an extraordinary achievement in the field of academics, sports, music, art, science, leadership, or talent on the national or international level. The award's first winner in 2014 was 18-year-old Michael Domagala, a talented swimmer (United States Junior 200m freestyle champion) and student at the University of Southern California.
Go to main navigation