PSFCU Awards $350,000 In Scholarships To 311 Students
Brooklyn, New York (June 10, 2016) – Marking its 16th consecutive year of providing academic scholarships to credit union members and their families, the Polish & Slavic Federal Credit Union (PSFCU) is awarding a total of $350,000 to 311 students this month as part of its annual Scholarship Program.
The annual PSFCU Scholarship Program selected outstanding recent high school graduates and current college students from throughout New York, New Jersey and Illinois to receive the scholarship funds. Since the program's inception in 2001, the Brooklyn-based credit union has dispensed in excess of $3,600,000 to more than 3,100 students as part of its annual Scholarship Program. This year's recipients include 211 high school graduates from the Class of 2016. The program was partially administered by the Credit Union Association of New York – CUANY. 100 current college students were also awarded.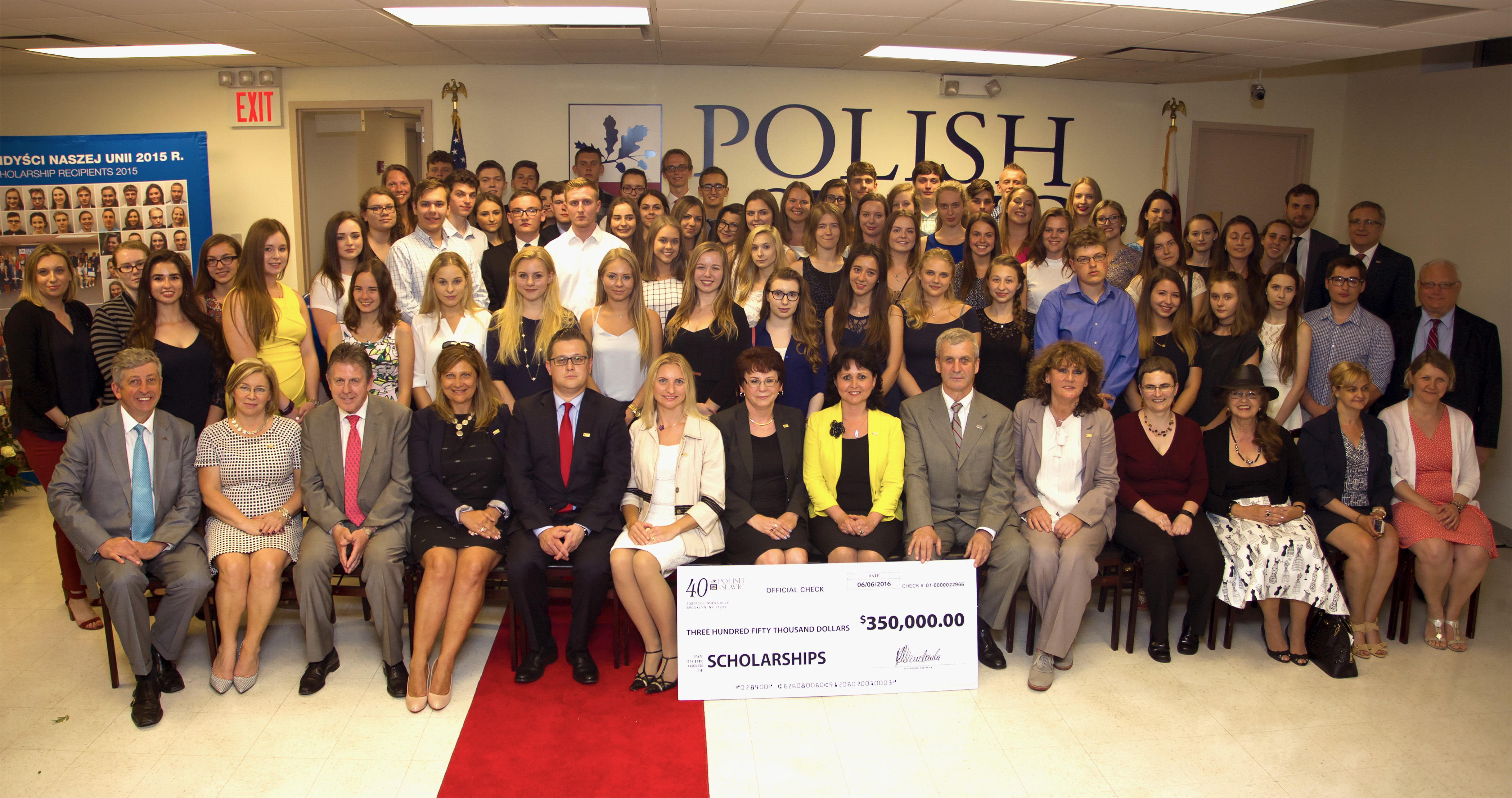 2016 PSFCU Scholarship Program recipients from New York

"Over the course of 16 years, thousands of our young members have benefited tremendously from our Scholarship Program, as we help provide valuable funds for students to pursue their dreams of a college education," said Malgorzata Gradzki, Chairwoman of the PSFCU Board of Directors. "We're proud of the work we do to support higher education, and on behalf of the current Board of Directors, I want to assure you that we will continue our support for the Scholarship Program."
This year, the scholarship award ceremonies were held separately in New York, New Jersey and Illinois, the three states in which PSFCU operates. The awards ceremony in New York (114 recipients) was held June 7 at PSFCU's headquarters in Greenpoint, Brooklyn. The New Jersey ceremony (129 recipients) took place June 8 at PSFCU's operations center in Fairfield. The Illinois event (68 recipients) will be held June 11 at PSFCU's Mt. Prospect branch.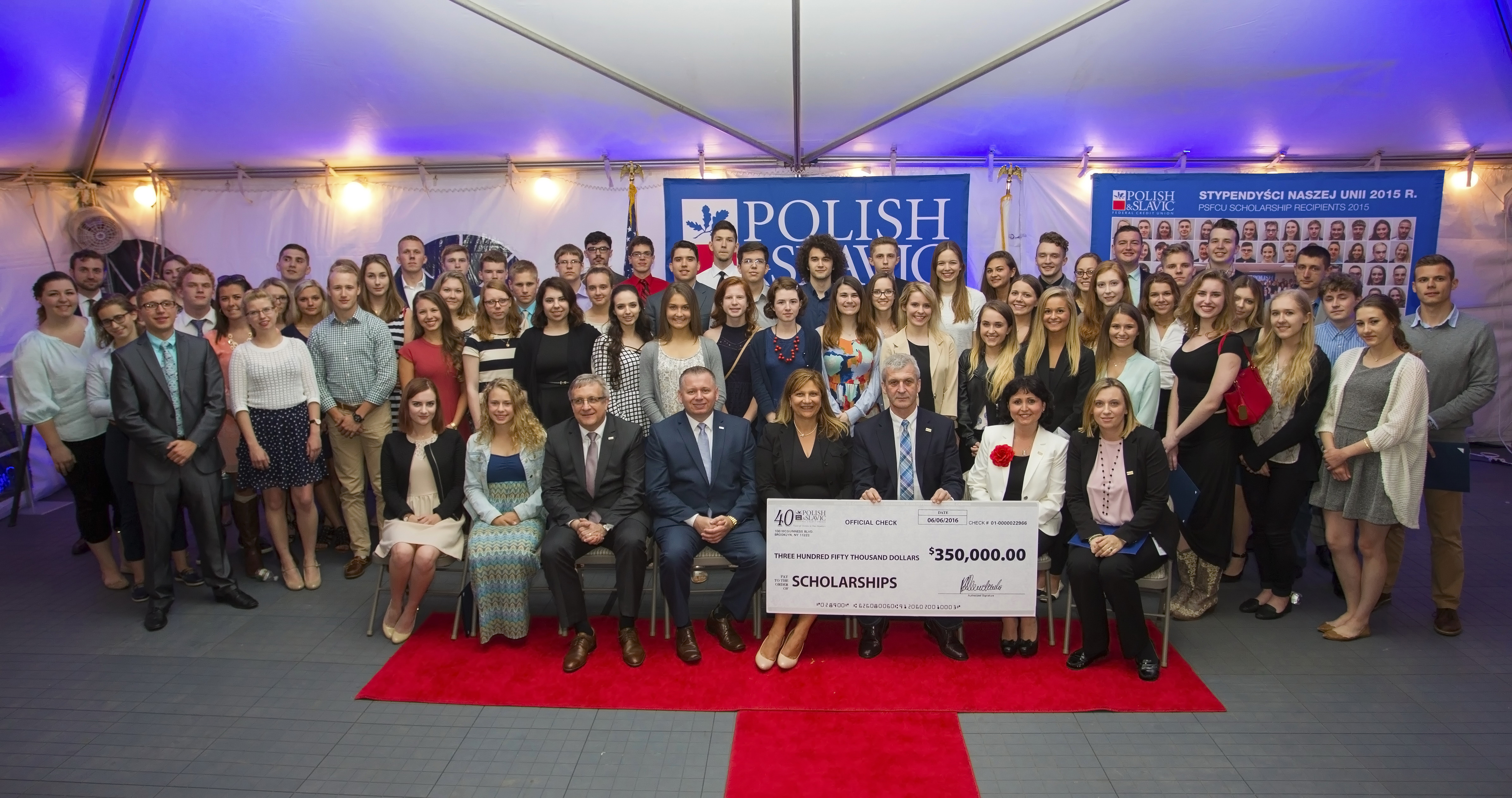 2016 PSFCU Scholarship Program recipients from New Jersey
In addressing the honored students who will receive the scholarships, Malgorzata Wadolowski, chairwoman of the PSFCU Scholarship Committee, said, "Please do not forget that you are the future of the United States Polish community. On your way to the top, do not forget that your Polish heritage is a reason to be proud. I hope that for all of you, your Polish & Slavic Federal Credit Union scholarship is an acknowledgement of your efforts thus far, as well as an incentive to keep working."
At the credit union's first scholarship ceremony in 2001, only local Brooklyn students were selected to receive scholarships to continue their education. Today – more than $3.6 million later – these young credit union members from New York, New Jersey and Illinois have applied their scholarships to such prestigious universities as Harvard, Yale, Columbia, Stanford, New York University, and the Massachusetts Institute of Technology.
As the nation's largest ethnic credit union, the PSFCU Scholarship Program is just one example of its desire to help Polish immigrants and Polish-Americans achieve their "American Dreams."
Go to main navigation