POLISH & SLAVIC FEDERAL CREDIT UNION DONATES $100,000 TO COLUMBIA UNIVERSITY FOR ENDOWMENT OF POLISH STUDIES CHAIR

Donation Underscores Aspiration of Credit Union and Entire Polish-American Community to Have Their Voice Heard Where It Counts Most
NEW YORK (May 31, 2007) – The dream of creating a permanent Chair of Polish Studies at an Ivy League school came much closer to fruition today when the Polish & Slavic Federal Credit Union presented Columbia University with a $100,000 check toward the endowment of the Chair.
The venerable federal credit union made the sizable donation during
a ceremony at its Brooklyn-based headquarters. On hand for the event were high-ranking officials from the credit union, including its new CEO, Mr. Bogdan Chmielewski, and the Chairman of the Board of Directors, Mr. Krzysztof Matyszczyk, who hosted representatives of Columbia University: Associate Dean Dan McIntyre and Professor John Micgiel, the driving force behind the academic initiative the past 3 years.
To date, approximately $750,000 has been raised toward funding the program. A total of $3 million will be needed to create the Chair of Polish Studies at Columbia . Professor Micgiel anticipates reaching that goal within the next three years.
"Not only is it an innovative program that we're trying to create at one of the most esteemed schools in the world, but it is so rare for a credit union of any kind to take such an active role – and make such a generous donation – toward making this a reality," said Professor Micgiel. "It is truly an extraordinary gesture on the credit union's part."
Ultimately, the Chair will promote Polish studies and culture, help Polish community schools improve academics, and assist with the administration of the Polish Language Regents exam.
The PSFCU has long been a supporter of higher education for its members and their children. Annually, the credit union assists almost 60 Polish Supplementary Schools and awards $300,000 for scholarships, in addition to organizing workshops at leading universities for those looking to continue their education.
"You would be hard-pressed to find another financial institution that places as much emphasis on education for its members," said Krzysztof Matyszczyk, the PSFCU's chairman. "Through our scholarships and donations we are investing in the future success of our most gifted young members. We are committed to education and the credit union takes great pride in doing all we can to help the next generation reach its full potential."
"This is where the Credit Union truly shines: the PSFCU's donation will directly benefit the community and help raise the prestige of the Polish ethnic group," said Mr. Bogdan Chmielewski, the CEO. "The voice of the credit union members will be heard where it counts the most – at an Ivy League institution. This will serve as a stimulus for many young members to strive for the best education they can get."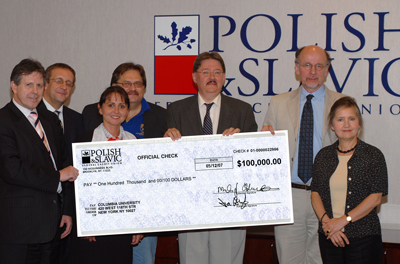 Donation Ceremony at PSFCU Headquarters
Go to main navigation