PSFCU REWARDS "THE BEST & BRIGHTEST"
WITH $300,000 IN COLLEGE SCHOLARSHIPS

Nearly 200 Students Receive Financial Aid from Ethnic Credit Union
Nearly 200 Polish-American students have been given a helping hand with their college education, thanks to the Polish & Slavic Federal Credit Union's annual scholarship program that recently awarded approximately $300,000 to worthy recipients.

In a dual ceremony held last week in Brooklyn, the ethnic credit union handed out a total of $296,000 in scholarships to 191 high school and college students. All recipients are from the New York area.

The June 28 ceremony at the Union's headquarters in Brooklyn honored 81 recent high-school graduates, who received either $2,000 or $1,000 each to continue their education. The following day, the PSFCU awarded 110 scholarships to students already enrolled in college. Ten students each received $5,000 scholarships; 50 students were each awarded $2,000 scholarships; and the remaining 50 were each granted
$1,000 scholarships.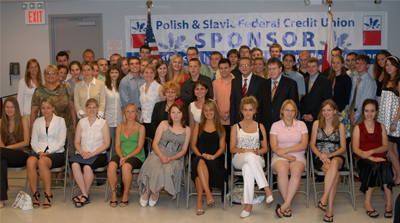 School Students and PSFCU Representatives
All scholarship recipients are PSFCU members. High-school candidates were evaluated on their academic records and commitment to community service. College students were also evaluated on their participation in extracurricular activities, essays and teacher references.

"We regard this essential program as one of our most important initiatives supporting the Polish-American community," said Krzysztof Matyszczyk, Chairman of the Board of the PSFCU. "These young people are the true future of our community, and we're extremely proud to be able to give them a helpful start in reaching their goals. I'm confident that these wonderful students will always retain the feeling of pride
in their roots."

This marks the sixth year the PSFCU has singled out "The best & brightest" Polish-American students in the tri-state area through its scholarship program. Since the program's inception, the credit union has awarded more than $1 million in scholarships to its young members to help defray the cost of higher education.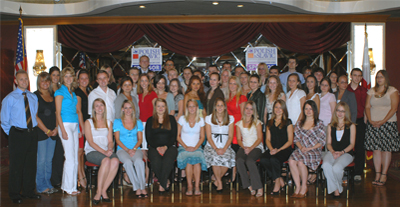 College Students
"This really is an unprecedented program being put on by a credit union. It's an incredibly satisfying endeavor that benefits so many of our members – today and years from now," said Mr. Bogdan Chmielewski, PSFCU's CEO. "Providing hope and opportunity for the next generation of members is what we're hoping to accomplish with this effort."
Currently, there are nearly 9,000 PSFCU members between 18 and 25 years old.

This year, one PSFCU scholarship recipient, Michal Ilewski, was also honored by the New York State Credit Union League (NYSCUL), which awarded him one of its 22 annual scholarships, a rare distinction coveted by 1,458 young New York credit union members.
About the PSFCU
The Polish & Slavic Federal Credit Union was founded in 1976 by a group of Polish immigrants to help other ethnic Poles obtain mortgages. It currently has 10 branches in New York and New Jersey, possesses an Operations Center in Fairfield, NJ, and provides ATM services at Doylestown, PA. With $1.1 billion in assets and 70,000 members, PSFCU is the largest ethnic credit union in the country.

This year's winners are:
Higs School Seniors:
$2,000.00:
Adamczuk Magdalena
Bargielski Patricia
Ilewski Michal
Kowalik Sebastian
Kruk Robert
Krukowski Andrea
Lesniewski Agata
Mackow Monika
Paluch Jakub
Pieklo Katarzyna
Slomicz Robert
Szenk Mariola
Wnorowski Alicia
Wnorowski Janina
Zielinski Adrian

$1,000.00:
Bialczak Roksana
Blusewicz Jarowslaw
Borkowski Jennifer
Chojnowska Karolina
Ciolek Koleta
Dawidowska Justyna
Dluzniewski Patrick
Flis Dominic
Frankowski Barbara
Gauza Piotr
Gibulska Marta
Glinski Ann
Gutowski Marcin
Hacker Monica
Jadczak Paul
Junka Radoslaw A.
Jurgowska Agnieszka
Karausz Joanna
Kazberuk Ewelina
Kluz Richard
Kosiorek Przemyslaw
Kotowska Justyna
Krowka Caroline
Krydka David
Krzeszowski Sylvia
Kuczynska Kaja
Legwand Aleksandra
Legwand Joanna
Leja Urszula
Lewandowski Jacqueline
Mackiewicz Sylvia
Mackow Joanna
Majewska Dominika
Marszalek Arthur
McEvoy Kellie
Mlynaryk Maciej
Mroz Michael
Mrzyk Malgorzata
Mszanecki Karolina
Olszowska Weronika
Ozga Malwina
Policht Kamil
Posacka Maria
Radzik Oskar
Reszka Martyna
Roszkowski Marek
Sarna Artur
Sawicki Agata
Sliwinski Wojciech
Slowinski Sandra
Smiarowski Karol
Sobolewska Anna
Socha Pawel
Strzalkowska Emilia
Syta Ewa
Szorc Kamil
Tyburski Sebastian
Usarek-Witek Magdalena
Wasilewski Lukasz
Wojcik Rafal
Wozniak Christopher
Zaloga Patrycja
Zebzda Boguslawa
Zieba Karol
Zych Natalie
Zych Sebastian

College Students:
$5.000,00:
Bedkowska Marta D.
Janowski Vanessa
Kretowicz Adam M.
Niemczyc-Antoniak Anna M.
Oldak Katarzyna A.
Paluch Kamilia
Pawlak Malgorzata
Pietrzak Monika
Szczodrak Marcin K.
Truszkowska Alina
$2.000,00:

Baszynska Aleksandra
Benedykcinski Michal
Bernatowicz Daniel
Brodka Katarzyna
Cyganik Krzysztof
Eliasinski Patricia
Filochowski Maciej
Filus Kazimierz
Gadek Natalia
Grabowski Alexander
Guzowska Ewelina
Jamula Karolina
Janczura Katarzyna
Janisiewicz Agnieszka M.
Janowski Radek
Jasiak Mirjam
Kamalska Monika
Kara Ewelina
Karson Ewa
Kasnicki Kristofer J.
Koralewski Brian T.
Koza Pawel J.
Koziorzebska Karen Y.
Ksepka Martha
Kwiatkowski Michael
Laszkowska Marlena
Mazgaj Jolanta B.
Mierzejewski Robert
Niedbalska Jolanta
Nowak Michal
Orent Angelika A.
Osmola Aneta
Pazdzior Magdalena
Peszt Ewelina
Pisarski Christopher
Plaskon Paulina
Popielek Marta
Reichert Agnieszka
Sekowska Malgorzata
Spiewak Monika
Stobiecka Alina
Szczech Malwina
Szmyt Robert M.
Tomczyk Maciej
Turon Joanna K.
Warmuz Anna Maria
Wloch Malwina W.
Wojcik Sara
Wrobel Jacek K.
Zukowska Ewelina
$1.000,00:
Anigacz Alice
Baj Bogumil
Barszcz Natalia P.
Bator Andrew
Bednarz Joanna
Bialek Malgorzata
Bladek Marta
Blaszkiewicz Jacek
Chmura Patrycja S.
Chudy Jeffrey A.
Dziedzic Zaneta K.
Hausbrandt Ewa M.
Kielbasa Agnieszka
Koguc Karolina
Komar Joanna B.
Krstic Lazar
Krygowska Justyna K.
Kulig Eva M.
Kurzatkowski Karol
Kurzatkowski Robert J.
Lazarz Sabina K.
Los Dagmara
Majewska Izabela A.
Majkut Katarzyna B.
Masternak Krystian
Niezgoda Justyna M.
Olechowski Antonina M.
Olechowski Monika A.
O'Neill Monika J.
Orzechowski Krystyna L.
Pertkiewicz Karolina
Rakowski Ewa M.
Rosinski Anna
Rutkowski Bartosz
Rzeszotko Magalena K.
Siemon Rafal
Sieradzki Amanda
Stepien Magdalena M.
Targonski Joanna
Verdon Christopher D.
Watras Magadlena J.
Wiacek Catherine
Winnicki Thomas A.
Wiszowaty Piotr
Wojcik Anna
Wojcik Katarzyna
Wojtowicz Magdalena
Wyrembak Pauline
Zarzecki Monika
Zielinska Iwona
With any additional questions, please contact:
Agata Krol, Training and Education Manager (akrol@psfcu.net; 973-808-3240 ext. 6250)
or
Kinga Gutowski, Training Assistant (kgutowski@psfcu.net; 973-808-3240 ext. 6247)
Go to main navigation