IN CONCERN FOR CHILDREN'S SAFETY:
OUR CREDIT UNION SPONSORED EMERGENCY STATION OPEN HOUSE
A demonstration by lifesaving personnel, organized by Emergency Medical Services (EMS) and sponsored by our Credit Union, was held at Williamsburg Ambulance Station 57 on May 22, 2007. Over 300 local elementary school children, including approximately 100 Polish pupils, along with teachers and parents, attended the meeting with firemen, policemen and paramedics.
The children had the opportunity to see close up how to properly provide first aid, how to behave in case of fire, and what to say when calling 911. A big attraction was the opportunity to go inside an ambulance or fire truck, or to get to see a policeman's weapons. The children asked many questions, in reply to which they received expert answers made more interesting by stories of real emergency calls, and an expression of extreme curiosity and excitement over such serious topics remained on their faces.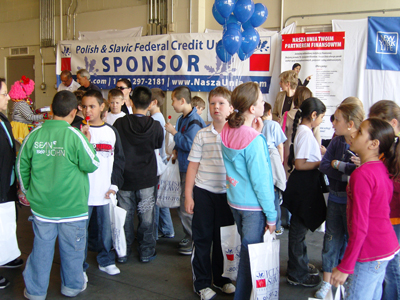 EMS's Participants
"The children are asking how to become a lifesaver," said Ms. Ewa Koszowska, a paramedic who belongs to the Credit Union and also organized the event. "I'm telling them what the profession is about, handing out information brochures, and encouraging them to visit the station more often. I hope that in this way I'll acquaint the children with the work of emergency services and therefore they'll decide to work there in the future."
The day also included a wide promotion of a prevention program during which the children eagerly filled out special Child ID Kit booklets, leaving their fingerprints. The children promised to give the booklets to their parents so they can quickly provide the necessary information to emergency services in case a child disappears.
By sponsoring this important event, our Credit Union gained the attention of approximately 100 Polish pupils, who received educational gifts for their diligent attendance in the training sessions. Our Credit Union was successful in interesting the children in its services, and some of them even promised to open an account at the PSFCU in the future. Congratulations to the organizers and we hope you won't have many emergency calls.
Go to main navigation