POLISH & SLAVIC FEDERAL CREDIT UNION NAMES HSBC VP AS NEW CEO
Chmielewski Returns To Credit Union To Fill Top Spot
In looking for a new chief executive officer to guide its credit union into the future, the board of directors of the Polish & Slavic Federal Credit Union realized a substantial 'return on a past investment,' as it named Bogdan Chmielewski, a former PSFCU employee, to the top post at the credit union.
Most recently, Mr. Chmielewski, 42, was a vice president at HSBC in New York, where he was responsible for growing the multi-national bank's business in northern Brooklyn. Prior to joining HSBC, Mr. Chmielewski had been employed by PSFCU for nine years, during which time he rose rapidly through the ranks, becoming a branch manager in 2001.

"Given his continued success at HSBC, coupled with his considerable credit union experience and his superb understanding of the Polish-American community, the Board felt Mr. Chmielewski made for the ideal candidate," said Mr. Krzysztof Matyszczyk, PSFCU's Chairman. "For those who had the pleasure of working with Bogdan during his time at the credit union, it became quite clear that this man would one day run an important bank or credit union. That 'one day' is today, as we are pleased to welcome back one of our own who, we are confident, will lead the Polish & Slavic Federal Credit Union toward a successful future."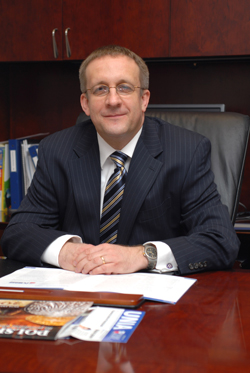 Bogdan Chmielewski, Chief Executive Officer
An alumnus of the prestigious Warsaw's Main School of Planning and Statistics (M.A. in economics), Mr. Chmielewski is married and has four children. "I have always had great affinity towards PSFCU and the credit union movement as a whole. It feels great to be back home." stated Mr. Chmielewski. "I am very honored to lead a credit union which for the past 30 years has been a pillar of the Polish-American community. Our credit union possesses great potential to grow and better serve our members. These will be the major areas of my concern as we move forward."
Mr. Chmielewski replaces Ms. Alicja Malecka, who was dismissed in early February, when the Board decided that the PSFCU needed a change in leadership in order to meet the credit union's objectives.
-------------------------------------------
The Polish & Slavic Federal Credit Union was founded in 1976 by a group of Polish immigrants to help other ethnic Poles obtain mortgages. It currently has 10 branches in New York and New Jersey, and an Operations Center in Fairfield, NJ. With $1.1 billion in assets and 70,000 members, PSFCU is the largest ethnic credit union in the country.

Go to main navigation