THE POLISH & SLAVIC FEDERAL CREDIT UNION
IS INVESTING IN THE HEALTH
OF THE POLISH COMMUNITY

Our Credit Union and Bellevue Hospital's medical staff again organize free tests for New York members.
(Greenpoint, April 30, 2007). A total of 115 people came to the Polish
& Slavic Federal Credit Union's McGuinness Blvd. Office in Greenpoint last Sunday to perform basic blood tests, obtain medical advice on diet and circulatory diseases, and to learn how to effectively combat the smoking habit. As in previous years, Bellevue Hospital provided the medical staff and equipment, and our Credit Union proved that it cares not only for its members' financial condition, but also for their health.
"This is our favorite 'field trip', which we have been successful in conducting for the fourth time. We have the opportunity to examine patients in a very tidy space where everything is excellently organized.
The people are also extremely friendly and pleasant. I think that this event is a very good advertising for Bellevue Hospital," agreed Chris Cho and Camille Ferdinand, who organized the Bellevue Hospital tests. "The Credit Union is a very important partner for us. Thanks to its subsidy, we have been successful in preparing Polish versions of many of the informational materials we distribute here, as well as employing two Polish interpreters, which is very important when explaining the details of medical results."
Hospital employees were very pleased with the way the event was organized, as well as by the tasty Polish food, which they all emphasized several times.
"This is the first time I've come for tests," said Mr. Czeslaw Moszczynski,
a Credit Union member who registered for the event. "I'm very glad to have the opportunity to check the condition of my health, which is important, particularly at my age. I read about the tests in the newspaper. I've come all the way from Williamsburg; I've taken my Sunday walk."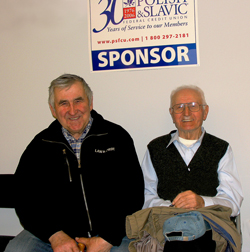 Czeslaw Moszczynski and Marian Bystryk
waiting for the findings
Ms. Jadwiga Janczewska, who has been a Credit Union member for many years, noticed other benefits of the project: "We really need this event. I'm impressed with the way it's been organized; there were no crowds or needless waiting. I'm grateful to the authors of this idea, because the tests are being performed on a Sunday, so I can attend with no problem. I'd like to see this event continue in the future."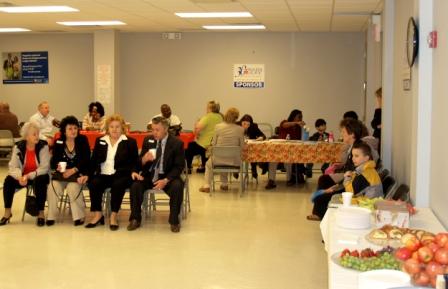 Members waiting for the medical examination
"While waiting for my results, I learned several important things about insurance; I availed myself of the advice on how to quit smoking, and how to eat healthy." Added Mr. Stefan Rysiak of Greenpoint. "This event is really necessary, especially for Polish people who have no health insurance. The Credit Union deserves applause."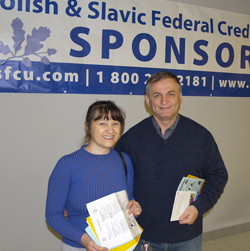 Alicja Svobodova and Stefan Rysiak with their findings
More people than the medical staff were able to handle at one session reported for the tests, so the Polish & Slavic Federal Credit Union is planning another event for this Fall. More information on the topic will be published in Polish ethnic newspapers and online at www.NaszaUnia.com.

Go to main navigation