Current Promotions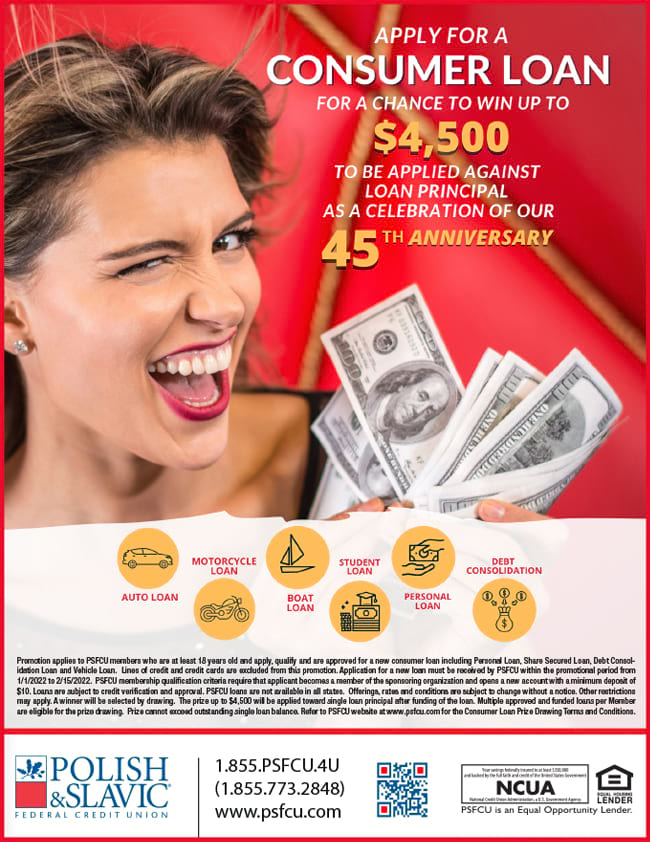 Promotion applies to PSFCU members who are at least 18 years old and apply, qualify and are approved for a new consumer loan including Personal Loan, Share Secured Loan, Debt Consolidation Loan and Vehicle Loan. Lines of credit and credit cards are excluded from this promotion. Application for a new loan must be received by PSFCU within the promotional period from 1/1/2022 to 2/15/2022. PSFCU membership qualification criteria require that applicant becomes a member of the sponsoring organization and opens a new account with a minimum deposit of $10. Loans are subject to credit verification and approval. PSFCU loans are not available in all states. Offerings, rates and conditions are subject to change without a notice. Other restrictions may apply.
A winner will be selected by drawing. The prize up to $4,500 will be applied toward a single loan principal after the funding of the loan. Multiple approved and funded loans per member are eligible for the prize drawing. Prize cannot exceed outstanding single loan balance. Refer to PSFCU website at www.psfcu.com for the Consumer Loan Prize Drawing Terms and Conditions.
---
Promotion valid for existing PSFCU mortgage loan holders who apply for additional mortgage loan on primary, secondary or investment 1-4 family property. The borrower must meet the standard eligibility requirements and the ability to repay the loan. Loans with an own contribution of less than 20% of the value of the house require private mortgage insurance (PMI). Offer only to PSFCU Members. Credits are not offered in all states. Other restrictions may apply.
Go to main navigation