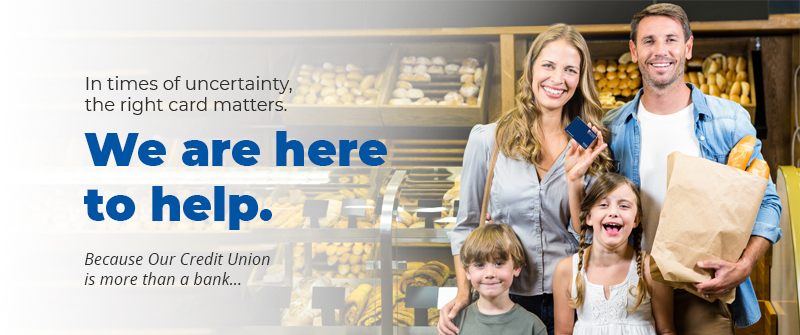 0.99% APR
1
until October 2021 on back to school and grocery
purchases made between August 1 and October 31, 2020

No hoops to jump through or spending limits to reach. No activation or point calculation.
Just use your Polish & Slavic Federal Credit Union consumer credit card between August 1
and October 31, 2020 on all your back-to-school and grocery purchases, and you will
automatically get 0.99% APR1 until October 2021.2
Qualified grocery merchant categories include: Wholesale Clubs, Discount Stores, Grocery Stores, Supermarkets, Freezer and Locker Meat Provisioners, Candy, Nut, Confectionary Stores, Dairy Products Stores, Bakeries, Miscellaneous Food Stores – Specialty Stores, Markets, Convenience Stores, and Vending Machines.
Qualified back to school merchant categories include: Miscellaneous Publishing & Printing, Office & Commercial Furniture, Office, Photographic, Photocopy, & Microfilm Equipment, Computers, Computer Peripheral Equipment, Software, Stationery, Office Supplies, Printing & Writing Paper, Men's, Women's, & Children's Uniforms & Commercial Clothing, Commercial Footwear, Books, Periodicals, & Newspapers, Non-durable Goods (Not Elsewhere Classified), Discount Stores, Department Stores, Miscellaneous General Merchandise Stores, Grocery Stores, Men's and Boys' Clothing and Furnishings Stores, Women's Ready to Wear Stores, Women's Accessory and Specialty Stores, Children's and Infants' Wear Stores, Family Clothing Stores, Sports Apparel, Riding Apparel Stores, Shoe Stores, Men's and Women's Clothing Stores, Tailors, Seamstresses, Mending, Alterations, Miscellaneous Apparel and Accessory Stores, Electronics Stores, Computer Software Stores, Record Shops, Used Merchandise Stores, Second Hand Stores, Bicycle Shops, Sporting Good Stores, Book Stores, Stationery Office and School Supply Stores, Hobby, Toy, & Game Stores, Luggage & Leather Goods Stores, Direct Marketing – Catalog Merchants and Combination Catalog and Retail, Direct Marketing – Other Direct Marketers (Not Elsewhere Classified), Cosmetic Stores, Miscellaneous & Specialty Retail Stores, Beauty Shops & Barber Shops, Shoe Repair Shops, Shoe Shine Parlors & Hat Cleaning Shops, Health & Beauty Spas, Computer Maintenance, Repair, & Services (Not Elsewhere Classified), Elementary and Secondary Schools, Colleges, Universities, Professional Schools and Junior, Correspondence Schools, Business and Secretarial Schools, Vocational and Trade Schools, Schools and Educational Services not elsewhere classified.
1. APR = Annual Percentage Rate. For the promotional period of August 1, 2020 – October 31, 2020, your APR (Annual Percentage Rate) on back to school and grocery purchases will be 0.99% APR. Polish & Slavic Federal Credit Union shall determine which Back-to-School and Grocery purchases qualify and will not be responsible for merchant misclassification. In order to qualify, the account needs to be in good standing, not delinquent and with no history of delinquency. New accounts with effective introductory APR on purchases, opened within the last 12 months, are excluded from this campaign. Also excluded are business accounts, closed and temporarily blocked (authorization prohibited) accounts, new accounts (less than 12 months on books), accounts that exceeded their credit limit, currently delinquents or with history of delinquency in the last 12 months. Cash advances and finance charges do not qualify for the promotional APR. This offer expires October 31, 2020.
2. The promotional APR on eligible purchase transactions posted between August 1, 2020 and October 31, 2020 will end according to your October 2021 billing cycle date. After that, the APR on any remaining promotional purchase balances will revert to your standard APR.
Go to main navigation