About Us
PSFCU Bylaws
Amendments to PSFCU Bylaws
History
The Polish & Slavic Federal Credit Union was established in 1976 by the founders of the Polish & Slavic Center led by Rev. Longin Tolczyk. The founders wanted to help immigrants who, upon arrival in New York City, wanted to buy houses in Greenpoint but were turned down by the banks. Banks were unwilling to extend credits for purchases or renovations of real estate properties to people who did not yet have an established credit history, especially since these properties were located in an area that was run-down at the time.
On December 27, 1976 federal authorities of the National Credit Union Administration registered the "Industrial and Trade Federal Credit Union". The Union charter was signed by Rev. Emil Altmajer, Marek Luniewski, Jan Raczkowski, Rev. Longin Tolczyk, Jozef Waltos, Jerzy Wolinski and Halina Zolnierowicz.
Two and a half years later, the name of the Union was changed to Polish & Slavic Federal Credit Union. The first PSFCU office was located at 940 Manhattan Avenue, adjacent to the canteen of the Polish & Slavic Center. In 1981, PSFCU purchased a building at 140 Greenpoint Avenue, which served as its headquarters.
In 1987, our Union opened a second branch located in Union, NJ, offering its services to the vast community of Polish immigrants residing in that part of the state of New Jersey. Subsequent years witnessed a quick growth of the PSFCU, with new branches being opened on Kent Street (1992), in Boro Park (1996), Clifton, NJ (1996), Ridgewood, Queens (2001), Bayonne, NJ (2001), Linden, NJ (2003), Copiague (2004) and on McGuinness Blvd. (2005). On February 25, 2007, PSFCU has officially entered Pennsylvania, where it opened its ATMs for Polish pilgrims at American Czestochowa in Doylestown. On January 30, 2010 our Credit Union has crossed the borders of yet another state, opening its first 2 branches in Chicago, Illinois.
At present, in addition to the fourteen branches, our Union also has a modern Operations Center in Fairfield, NJ, allowing us to serve over 70 thousand members. With over one billion dollars in assets, PSFCU is currently the largest ethnic credit union in the United States and is ranked in the top one hundred largest US credit unions.
What is the difference between our credit union and a bank?
A credit union is owned by all its clients/members. Credit union members/owners, all of whom have equal voting rights, elect the Board of Directors which oversees the union's daily operations and sets its strategic goals for the future. A bank, on the other hand, is owned by a small group of its shareholders, not all of whom even have voting rights. Voting shareholders alone make all decisions concerning bank's operating policies.
A credit union is an integral part of a community it serves; profits earned by a credit union serve all its members and the local community they represent, including various community organizations (schools, churches, scouting and student organizations, etc.)
By contrast, a bank is seldom interested in the prosperity of its local community since it is geared towards earning the highest possible profit for its shareholders who rarely reside in, or are in touch with, the immediate neighborhood of a local bank branch.

In order to become a member of our Credit Union, or any other credit union, one must meet certain specific conditions. In the case of PSFCU, prospective member must be a member of one of the eight sponsoring organizations: the Polish & Slavic Center (Brooklyn), Polish Cultural Foundation (Clark, NJ), Polonia of Long Island, Inc. (Long Island), the Polish Supplementary School Council of America, the General Pulaski Memorial Parade Committee, Alliance of Polish Clubs in the United States (Chicago) or the Polish Highlanders Alliance of North America (Chicago, IL), Kosciuszko Foundation (New York, NY).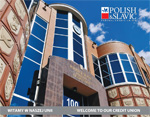 Our Union's main products and services:
- checking accounts
- savings accounts
- business accounts
- Money Market
- term shares
- IRA/ESA
- vacation and holiday club accounts
- business credits
- personal loans
- real estate loans
- car loans
- boat loans
- debit/credit cards
- domestic and international wire transfers
- internet banking
- telephone banking
* ID such as a passport or an American driver's license is required to open an account. Other restrictions may apply.